Advanced Open Water SCUBA Diver
Exploration, Excitement, Experiences. They're what the PADI Advanced Open Water Diver course is all about. And no, you don't have to be "advanced" to take it – it's designed so you can go straight into it after the PADI Open Water Diver course.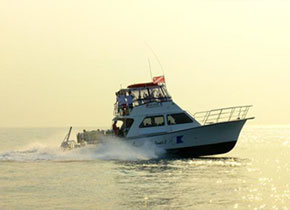 The Advanced Open Water Diver course helps you increase your confidence and build your scuba skills so you can become more comfortable in the water. This is a good way to log more dives while continuing to learn under the supervision of your PADI instructor. This course builds on what you've learned and develops new capabilities by introducing you to new activities and new ways to have fun scuba diving.
PADI Advanced Open Water Diver Course
You'll hone your skills by completing five adventure dives that introduce you to:
Underwater navigation
Deeper water diving (typically anywhere from 60-100 feet)
A sampler of three more Adventure Dives
The Fun Part: Your Choice
One reason you'll love the Advanced Open Water Diver course is that you and your instructor choose from 15 types of Adventure Dives to complete your course. You can try your hand at wreck diving, deep diving, peak performance buoyancy and much more.
Prerequisites
To take this course, you must be:
A PADI Open Water Diver (or qualifying certification from another training organization)
15 years old (12 for Junior Advanced Open Water Diver)
What You Learn
The knowledge and skills you get in the Advanced Open Water Diver course vary with your interest and the adventures you have, but include
Practical aspects of deep diving
Physiological effects of deeper scuba diving.
More ways to use your underwater compass
How to navigate using kick-cycles, visual landmarks and time
How to better use your dive computer
And much, much more, depending upon the Adventure Dives you pick
The Scuba Gear You Use
You use all the basic scuba gear including your underwater compass. You can rent a full set of scuba gear for use during this class for $80.
Other gear recommended is a signal kit/safety sausage and wreck reel. You can buy these items at your student discount price at Aquatic Safaris.
The Learning Materials You Need
You'll do your knowledge development on PADI's eLearning website. The AOW eLearning code is included in the class price.
Upcoming Advanced Open Water Diver Classes
Class:
Dates & Times:
Instructor:
Cost:
Space
Available
Details
Minimum age
15 years old (12 for Jr. AOW Diver). Private classes on a case-by-case basis and are subject to a surcharge.
Equipment provided by student
Student is responsible for providing their own gear or can rent from Aquatic Safaris for $80 for the entire course.
Equipment provided by Aquatic Safaris
Underwater compass for use during the navigation skill.
Charters provided by Aquatic Safaris
Two charters for 4 of the skills dives.
Course cost

$475

per student. Class size is limited by PADI standards. Your payment secures your class spot, two charters and the elearning code.
Required learning materials
You'll be issued a PADI eLearning AOW code when your sign up.
Additional expenses
NONE…maybe a tip for the boat crew.
Your Next Adventure
After you've tried a specialty in the Advanced Open Water Diver course, you'll probably want to take the whole specialty course and learn more:
Deep diving, drift diving, dry suit diving, night diving, peak performance buoyancy, search and recovery, underwater navigation, underwater photography, wreck diving
Class Refund/Cancellation and Rescheduling Policy:
All courses are reserved with class payment. Should you need to cancel or reschedule your class, we require a minimum of 10 days notice. Canceling or rescheduling class with less than 10 days notice incurs a $150 fee. Classes must be started within 1 year of purchase. No refunds or partial refunds for unused classes will be granted after 6 months from class purchase date. The PADI eLearning code, once redeamed, is non-refundable. Proceeding with signing up for a course demonstrates your understanding and willingness to abide by these policies. Please contact us to address any questions or concerns BEFORE you proceed with payment.
This policy is subject to change without notice.
See also
Want to get wet?