Night Diver Course
The PADI Night Diver Course
As the sun sets, you don your dive gear, slip on your scuba mask and bite down on your dive regulator. A deep breath and you step off the boat – into the underwater night. Although youve seen this reef many times before, this time you slip into a whole new world and watch it come to life below the glow of your dive light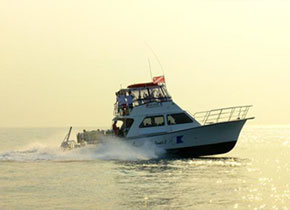 The Fun Part
Introduce yourself to the whole new cast of critters that comes out after the sun goes down. See your favorite dive sites from a whole new perspective at night.
What You Learn
Night dive planning, organization, procedures, techniques and potential problems
How to control your buoyancy at night
Entries, exits and underwater navigation at night
Nocturnal aquatic life, since many of the plants and animals you'll see are different
The Scuba Gear You Use
You will use the basic scuba diving equipment with a dive light. A primary dive light is required. A backup dive light is recommended. All gear can be purchased at Aquatic Safaris at a student discount.
The Learning Materials You Need
Night Diving – theres really nothing like it. With the right training and a tiny bit of planning, night dives can be as simple as diving during the day. PADIs Night Diver crewpak (manual and video upon DVD) will help you prepare for your first night dives with a PADI Instructor. Topics covered include: tips for navigating at night, night diving etiquette, establishing an entry and exit point, and how to sustain your underwater light system. The instruction material is included in your class fee.
Prerequisites
You must be
A PADI Open Water Diver or Junior Open Water Diver certification (or qualifying certification from another organization).
At least 12 years old.
Class:
Dates & Times:
Instructor:
Cost:
Space
Available
Details
Minimum age
12 years.
Equipment provided by student
Student is responsible for providing their own gear or can rent from Aquatic Safaris.
Services provided by Aquatic Safaris
Course cost

$145

per student. Your payment secures your class spot and gets you the learning materials.
Required books & materials
Night Diver Crewpak – included in course fee.
Additional expenses
Charter to do required dives.
Your Next Adventure
Take your navigation skills to new levels with the PADI Underwater Navigator course. Get your buoyancy dialed in with the PADI Peak Performance Buoyancy course. Recognize what those critters are upon your night dive with the AWARE Fish Identification course.
See also
Want to get wet?