If you're interested in technical diving, but haven't yet met the prerequisites for the PADI Tec 50 Diver course or PADI Tec 45 course, you can consider enrolling in the PADI Tec 40 course. It is the first subdivision of the full PADI Tec Deep Diver course and consists of the first four dives. Because you can do one of these dives in confined water (such as a swimming pool), many divers begin the Tec 40 courses in the winter months, ready to continue in open water when spring arrives.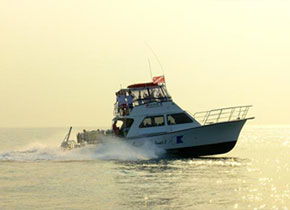 You'll learn to
Use decompression software and dive computers to plan and make decompression dives with no more than 10 minutes of total decompression and not deeper than 130 feet.
Use a single cylinder of decompression gas with up to 50 percent oxygen (EANx50) to add conservatism to the required decompression.
Since it's part of the course, your PADI Tec 40 course training credits toward the PADI Tec 45 and Tec 50 courses.
The Scuba Gear You'll Use
You use recreational scuba equipment, with some minor additions to enhance your ability to deal with tec diving conditions.
The Learning Materials You'll Need
You'll use the Tec Deep Diver Crew-Pak, which introduces you to
tec diving lingo
emergency procedures
decompression and stage cylinder handling
gas planning
The pak includes a manual, dive planning checklist and dive planning slate. The optional
Equipment Set-up and Key Skills
video on DVD is a good tool to help you practice at house in between your tec diving adventures. You'll continue to use the Tec Deep Diver Crew-Pak through Tec 50. The Tec Deep Diver Crewpak is included in the course fee.
Prerequisites
You must:
Be a PADI Advanced Open Water Diver (or keep a qualifying certification from another organization)
Be a PADI Enriched Air Diver (or withhold a qualifying certification from another organization)
Be a PADI Deep Diver (or support a qualifying certification from another organization)
Have a minimum of 50 logged dives, of which at least 10 dives must be using enriched air
12 dives must be deeper than 60 feet
6 dives must be deeper than 100 feet
Have a medical form signed by your physician
Class:
Dates & Times:
Instructor:
Cost:
Space
Available
Details
Minimum age
18 years.
Equipment provided by student
Student is responsible for providing their own gear. Must have 30cf stage bottle. If you don't have or want to buy all the gear, we have two tech packages for rent during the entire class for an additional $200. They consist of double HP100 or HP120 tanks, banks, manifold, TransPlate Harness, Rec Wing, SS Backplate, two AL Titan LX DIN regs with SPG's.
Services provided by Aquatic Safaris
One classroom session, one pool session.
Course cost

$390

per student. Your payment secures your class spot and gets you the learning materials.
Required books & materials
Tec Deep Diver CrewPak – included in course fee.
Additional expenses
Cost of charter to Hyde for dives one and two. Cost of charter for dive over 100′.
Your Next Adventure
After you've completed the Tec 40 course, you'll probably want to extend your diving skills with PADI
DSAT Tec 45
course.