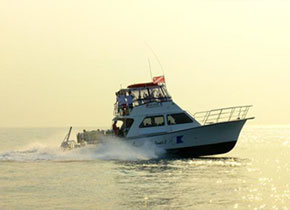 (Dive shops & clubs should contact Aquatic Safaris for group rates and details)
Reservations: Reservations will be accepted and secured with an valid credit card. Reservations are accepted on a first-come, first-served basis.
Charter Minimums: On the 36′ ASII we must have 8 people to run a charter up to 18 miles offshore and at least 10 to run beyond. On the 48′ ASI we must have 12 people to run any charter.
Dive Site Destination Change Policy: If the weather does not permit a dive charter to a scheduled off-shore site (>25miles) and a more in-shore dive charter is possible to at least 18miles, the charter will run to the alternate location. The customer will be charged for the actual dive site.
Cancellation Policy: There is no penalty for cancellations received by noon 5 days prior to departure date, except with groups of 6 or more. Groups of 6 to 11 divers more must notify Aquatic Safaris 7 days prior to departure. Groups of 12 to 17 divers must notify Aquatic Safaris 14 days prior to departure, and groups of 18 divers must notify Aquatic Safaris 21 days prior to departure. Inside the cancellation policy, we will attempt to re-book your reservation with another diver, and you will not be charged.
We cannot guarantee sea conditions or visibility. We will make every effort to get you to the chosen site, however the captain has the right to change the destination or the number of dives for the safety of the passengers and vessel. If an alternative dive site is chosen, divers will be prorated to the destination. Divers who fail to dive due to seasickness or other causes (no show, equipment issues, etc) are responsible for the cost of the charter. There is no charge if we must cancel for any reason, such as weather conditions. Cancellations are not accepted over email or voice mail- they must be done with Aquatic Safaris staff over the phone.
Equipment: Charter prices include boat transportation only. Divers are responsible for providing their own equipment or can make arrangements with us for rental gear. Rental tanks you reserved for your charter will be on the dive boats.  All other rental gear is to be picked up/returned to the Aquatic Safaris dive shop at Atlantic View shopping center.
Certification cards: C-Cards will be collected on the boat by the crew and returned at the dock. Unless you are Jacques Cousteau, you will not be allowed to dive without a certification card. No exceptions! If you show up without a c-card, you will still be responsible for the cost of the charter and may ride on the boat.
By booking a charter, the customer agrees to these terms.