Enriched Air Nitrox Certification
Scuba Diving with Enriched Air Nitrox
The PADI Enriched Air Diver course is PADI's most popular specialty scuba diving course, and it's easy to see why. Scuba diving with enriched air nitrox gives you more no decompression dive time. This means more time underwater, especially on repetitive scuba dives.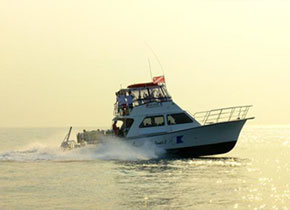 The Fun Part
You can typically increase your dive time and decrease your surface interval. No wonder many divers pick this as their very first specialty.
What You Learn
Techniques for getting more dive time by using enriched air nitrox
Enriched air scuba diving equipment considerations
Enriched air considerations, including managing oxygen exposure, how to analyze your tank contents and how to set your dive computer
The Scuba Gear You Use
You use all the basic scuba gear. Your dive regulator must be enriched air compatible. If you choose to do the checkout dives, a full set of rental gear is $45.
Prerequisites
To enroll in the PADI Enriched Air Diver course, you must
Be 12 years or older
Have a PADI Open Water Diver certification (or have a qualifying certification from another organization)
Ask your PADI Instructor about how you can start your PADI Enriched Air Diver course during your PADI Open Water Diver course.
The Learning Materials You Need
The Enriched Air Diver crewpak includes every required materials* to complete PADI's Enriched Air Diver specialty. The Enriched Air Diver Manual covers the procedures for diving with Enriched Air (up to 40%) and the Enriched Air Diving video DVD demonstrates step-by-step how to plan a dive.
The Enriched Air Diver crewpak is included in your course fee.
Class:
Dates & Times:
Instructor
Cost:
Space
Available
Nitrox Starts Fri Aug 23 2019 4:00 PM

Course offered with or without checkout dives.

Class: Aug 23 4-5PM

Maiah
$98
+$60 w/Dive
5
Nitrox

Course offered with or without checkout dives.
Class: TBA
Dive: TBA
Maiah
$98
+$60 w/Dive
3
Details
Minimum age
12 years. Private classes on a case-by-case basis and are subject to a surcharge.
Equipment provided by student
If doing the optional checkout dives, student is responsible for providing their own gear or can rent from Aquatic Safaris.
Equipment provided by Aquatic Safaris
If doing the optional checkout dives, two AL80 tanks of EANx. Emergency first aid and oxygen kit access during check out dives. Liberty ship charter.
Course cost

$98

per student. +$60 for optional checkout dives at the Liberty ship.
Required books & materials
PADI EANx manual – included in course fee.
Additional expenses
NONE. Maybe a tip for the boat crew.
Your Next Adventure
Diving with enriched air nitrox benefits all types of diving, but it goes especially well with these specialties:
See also
Want to get wet?