SCUBA Diving Charters
Come dive with us!
Aquatic Safaris has been running charters out of Wrightsville Beach since 1988! All of our captains and crew members are experienced divers or instructors and will do everything possible to make sure you have a safe and fun experience.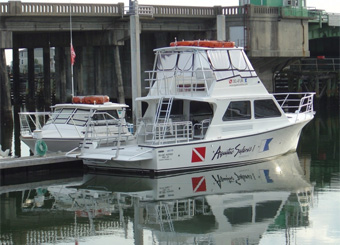 We book walk-ons, so if you don't have a dive buddy – no problem! Contact us to schedule your SCUBA diving trip today!
Charter Info
Click here for the current charter schedule. Please check charter departure times for specific charters on the Charter Schedule . Group rates are available for large parties, dive shops and clubs – call Aquatic Safaris for details.
For the past several years, there have been resident FULLY grown Sandtiger and Sandbar Sharks on the Hyde & Markham. These sharks are non-aggressive, but thrilling to dive with!! Don't miss out this summer.
How to book a dive
Please call the dive shop during business hours to schedule a dive. Our courteous staff will answer any questions you may have about dive sites and create your dive booking with any needed rental gear. You will receive a confirmation email detailing your dive reservation.
All dives depart from the Bridge Tender Marina. Any rental gear is to be picked up and returned to the dive shop.
The Charters
→ View details about each charter
Drift diving & Night diving
Night Dives are available any night of the week but most frequently occur on Thursday Nights! Drift Dives on Offshore Ledges: Another favorite of the Aquatic Safaris Crew. Come see what you've been missing!! (Call for details)