Have you ever wondered what it's like to breathe underwater? If you'd like to find out, but aren't quite ready to plunge into a certification course, Discover Scuba Diving (DSD) allows you to try SCUBA to see if you like it. Most PADI dive shops offer a version of this program in a pool or other body of water.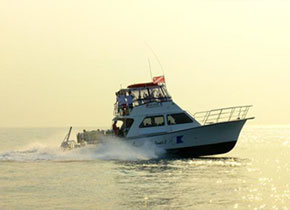 While it's not an actual SCUBA certification, DSD provides you with an introduction to using SCUBA equipment in shallow water along with important information you'll need to know when getting involved in this wonderful sport!
The Fun Part
There's nothing like breathing underwater for the very first time. It might take some getting used to, but after a few minutes of awestruck wonder most participants realize how easy diving really is! The biggest challenge instructors have with the DSD program is not coaxing participants into the water, but coaxing them out when the program is over. The fun part? It's all fun!
Plus, you can get credit! If your Discover Scuba Diving program includes an actual scuba dive in open water (not normally done), your experience may count toward your PADI Open Water Diver certification, putting you a step ahead of the game when you decide to go for it.
What You Learn
You'll learn the basic skills you need to dive under the direct supervision of a PADI Professional. Most importantly, you'll learn whether or not you like breathing underwater and if you'd like to continue your diving education. You will:
Get to wear SCUBA equipment and see how easy it is to maneuver in it underwater
Find out what it's like to breathe underwater and whether or not you're comfortable with it
Learn basic skills and safety rules that will carry over to your full SCUBA certification course when you take the next step
The Scuba Gear You Use
All the equipment you will need is typically included in a Discover Scuba Diving experience. You'll use all the basic SCUBA gear including a mask, snorkel, fins, a buoyancy control jacket that also carries your scuba tank, a scuba regulator to breathe from, and a gauge to monitor depth and air supply. You might also wear a wetsuit or a weight system depending on where you do your Discover Scuba Diving program.
The Learning Materials You Need
Just your willingness and undivided attention.
Prerequisites
To take Discover Scuba Diving, you must be at least 10 years old.
Class:
Dates & Times:
Instructor:
Cost:
Space
Available
Discover SCUBA Starts Sun Jun 16 2024 2:30 PM

Pool: Jun 16 2:30PM

M.P.
$60
0
Discover SCUBA Starts Sun Jul 07 2024 2:30 PM

Pool: Jul 7 2:30PM

M.P.
$60
0
Details
Minimum age
10 years. Private classes on a case-by-case basis and are subject to a surcharge.
Equipment provided by student
None.
Equipment provided by Aquatic Safaris
All gear needed for class is provided, including mask, fins, and snorkel.
Course cost

$70

per student.
Required books & materials
None.
Additional expenses
None.
Your Next Adventure
If you enjoyed the DSD and would like to continue your diving education, you'll want to check out our
Open Water Diver
certification courses.
See also
Want to get wet?