SCUBA "Tune Up" Refresher
Has it been a while since you've been scuba diving? Do you feel like your scuba skills and knowledge are a bit rusty? The Scuba Review Tune-up is just the refresher you need. It reacquaints you with diving so that you're back to feeling comfortable in the underwater world.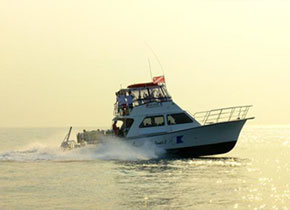 The PADI Scuba Review Course
Brush up on your scuba knowledge and skills. Improve your diving ability, and get your scuba gear ready for your next scuba vacation or diving holiday.
What You Learn
You go over scuba knowledge you learned during your initial training. Then, practice fundamental skills in a pool. You review:
Safe diving practices
Dive planning fundamentals
Problem management
Breathing air at depth
Recreational diving and dive tables: basic knowledge
Recreational diving and dive tables: dive planning
After you complete the knowledge assessment, you go through the Confined Water Skills Preview. You review information about each skill, why it 's important, points to recall when performing the skill. Completing this section just before practicing is a good way to refresh your knowledge of how each skill is performed.
The Scuba Review course is particularly beneficial if you:
Are a PADI Open Water Diver course referral student who wants a refresher prior to making your open water training dives
Are a PADI Scuba Diver who wants to upgrade to Open Water Diver
Just haven't scuba dived in a while and desire to get back into diving.
The Scuba Gear You Use
You use all the basic scuba gear, which is provided during this course. You only need mask, fins, & snorkel.
The Learning Materials You Need
Quickly and effectively review scuba diving fundamentals with PADI 's Scuba Tune-Up Guidebook. Begin by answering a few questions related to dive safety, problem management and dive planning. For example:
What are the five steps in a pre-dive safety check?
What is the maximum depth limit for all recreational diving?
What are the signs and symptoms of decompression sickness?
At 40 feet a diver runs out of air. Her buddy is more than 60 feet away, what should she do?
To buy this product, contact Aquatic Safaris. This guidebook is recommended but not required. You can also review your original Open Water Diver manual.
Prerequisites
To take Scuba Review, you must
Have a scuba diver certification
Be at least 10 years old
The Refresher class is taught along-side our Open Water class. Please see class schedule below.
Class:
Dates & Times:
Instructor
Cost:
Space
Available
Open Water Diver Starts Mon Jul 24 2017 8:00 AM
Class: Jul 24, 25 9AM-12PM, other dates TBA
Pool: Jul 24 8-11AM, 25 1-4PM
Dive: Jul 26 9:30AM-1:30PM, 27 1:30-5PM
Eliza
$320
0
Open Water Diver Starts Mon Jul 24 2017 6:00 PM
Class: Jul 24, 26 6-9PM, 28 time TBA
Pool: Jul 25, 27 6-9PM
Dive: Jul 29 time TBA, 30 7:30-11AM
Kelsey
$320
1
Open Water Diver Starts Mon Jul 31 2017 6:00 PM
Class: Jul 31, Aug 2 6-9PM, 4 time TBA
Pool: Aug 1, 3 6-9PM
Dive: Aug 5 time TBA, 6 1-4:30PM
Alan
$320
0
Open Water Diver Starts Mon Aug 07 2017 6:00 PM
Class: Aug 7, 9 6-9PM, 11 time TBA
Pool: Aug 8, 10 6-9PM
Dive: Aug 12 time TBA, 13 7:30-11AM
TBA
$320
7
Open Water Diver Starts Mon Aug 14 2017 6:00 PM
Class: Aug 14, 16 6-9PM, 18 time TBA
Pool: Aug 15, 17 6-9PM
Dive: Aug 19 time TBA, 20 7:30-11AM
TBA
$320
5
Details
Minimum age
10 years.
Equipment provided by student
Student must have own mask, fins, and snorkel.
Services provided by Aquatic Safaris
Basic SCUBA gear for use during the class, one class session, one pool session, charter to Liberty Ship.
Course cost

$175

per student. Your payment secures your class spot.
Required books & materials
Additional expenses
NONE.
See also
Want to get wet?